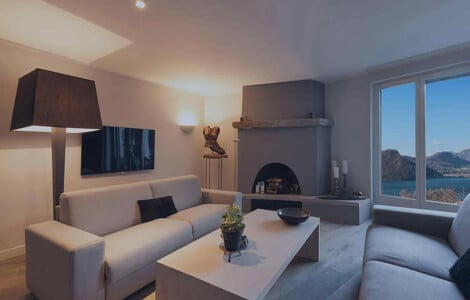 Also found within Grand Central Park is the 41-storey Park West. It's designed by renowned visionaries: Architect Jose Pedro Recio, Ariane Steinbeck, Gettys Chicago, and HOK USA. It boasts amazing architecture, stylish interiors, modern finishes, and state-of-the-art facilities. Armed with an infinity pool and pool deck, life will surely be refreshing. It also has a reflexology pathwalk, a game room, a trellis, a multipurpose room, a library-cum-business center, a pool bar/lounge, function room, gym, jogging path, play area, and a fitness station.

Open up to a world of possibilities in the Bay Area of Pasay City. SixSenses Residences is shaped into the lucky number 8, and serves as a gateway to the city's Entertainment Capital. The towers house exquisite condos, and places more units at opportune and spacious corners laying just beyond the horizon of Manila Bay. It even has an amenity deck with countless indulgences, like an aerobics/dance/taekwondo studio, male and female locker and treatment rooms, pools, a day care center, a game room, gym, and reading room. It even has an indoor party area, an outdoor party area, a jacuzzi, and a fitness station.

One Wilson Square is set at Wilson Street, San Juan, that lets you delight in the right space that takes you places. It provides easy access to the major thoroughfares and business districts in Metro Manila, as it lies close to Greenhills and the intersection of EDSA and Ortigas.It makes a drive to Ortigas and Makati easier. Individually created to maximize the space for residents, every One Wilson Square home has been crafted with careful attention to detail in every aspect of life. Enjoy its grand lobby and its outdoor pool.

Offering unobstructed views of the sea, the sky, and the city of Cebu is Marco Polo Residences, embodying the spirit of the explorer. You can journey beyond the ordinary as the Residences brings to light the best of locale can offer in the first and only five-tower branded residence. You also get a quiet and lush hill community along with sophisticated condo units to suit your way of life. It has a day care center inside, including a mini theater, tiara room, kid's play area, and even a golf simulation/Wii room. Apart from that, you get a game room, fitness gym, aerobics studio, pro-shop area, wine cellar, and a culinary station inside. What's more, there's an indoor spa, and function and conference halls. Outdoors, you have another kid's play area, a viewing deck, a multipurpose area for basketball, volleyball, and badminton. There's also a stage, a landscaped garden, a jogging path, pools, a mini putting green, a spa pavilion, a gazebo, a fitness station, and an area for dining and grilling.

A short away from Tomas Morato and Timog is The Capital, where everything is within reach. It's near avenues leading to Manila, San Juan, and Makati, so the avenues of your interests can come together and options are within your reach. It has a private entrance and a porte-cochere to ensure that coming home always feels relaxing. It even has interconnected amenities to bring a sense of leisure and flow to your daily life. For people in need of a home office, there are also special units designed in The Capital. It has a retail area on the ground floor, function rooms, boardrooms, an indoor and outdoor children's play area, and a lobby.

Indulge in a life that surprises you at Paseo de Roces, located close to the Makati Central District. It's just a walk away from the Sunday markets, luxury malls, offices, and parks so you can be in a home that's truly yours in a city that can be yours, too. The windows of every polished unit perfectly capture the skyline of Makati. As for the relaxing view of the residences' amenity deck, it has lots of options to match your every interest. It has pools, a fitness gym, an indoor children's play area, and a function room—all in one place.

Townships by Federal Land
Federal Land and its subsidiaries have built a number of prime communities for providing families with a complete lifestyle. Federal Land's townships are truly a testament to high-quality living which has transformed cities across the country into centers of life and activities.

Grand Central Park is the newest luxury mixed-use development in BGC by Federal Land, where upscale condos such as the Park West and the Times Square West are, including prominent offices, business centers, restaurants, and shops.

Located in the Manila Bay area in Pasay is Metropolitan Park, a friendly community and your gateway to excitement. Built for fun outdoors, yet quiet and accessible, Metro Park also comes with a strip mall which offers endless dining and shopping options. Designed to provide you with a complete and relaxing way of life by the way, it's a humongous 40-hectare community.

In Sumulong Highway in Marikina is Tropicana Garden City, Spanish-inspired with modern and stylish facilities and amenities. It's a self-sustaining nine-tower residential condo, welcoming travelers and residents to a home close to nature.

In General Trias, Cavite lies a lifestyle where affordable condo units and houses, resort-type amenities, and a commercial strip mall are accessible. Within the mixed-use development community of Florida Sun Estates are plenty of greenery and open spaces, so it's well-suited for startup families.

Atop the prestigious Nivel Hills between Mactan and Cebu City is the quiet and lush community perched 800 feet above sea level, Marco Polo Residences. It's a five-tower branded residence, with a world-class hotel, so you can get what Cebu has to offer: the best way of life unlike any other.

Horizon Land, a Subsidiary of Federal Land
Committed to developing secure and family-friendly communities in the Philippines is the subsidiary of Federal Land, Inc., Horizon Land Property Inc. Horizon Land creates accessible and nurturing homes and communities geared towards enriching lives, it has thoughtfully-designed quality condos for sale.

Lying in 2.1 hectares of land in Paco, Manila is a refreshingly kid-friendly community, the Peninsula Garden Midtown Homes. With 8 towers, it's accessible through President Quirino Avenue Extension and Penafrancia Streets. Residents can enjoy the view of the metro from the Midtown Homes, designed to give a safe and nurturing home for you and your children. It has more than 50% of open space, providing great outdoor adventures for the kids and enough space for you to relax. Claimed to be the biggest in the city, it has pools, a gym, a game room, children's play areas, and kid's playgrounds.

You can play to your heart's content at Palm Beach Villas, where homecomings are happier and easier. It's packed with amenities and units that will surely delight the whole family. With pools, a grand lobby, play areas for kids, and a game room for teens and a gym for adults, it's located in Pasay. It's within the vicinity of Bluebay Walk and the Mall of Asia. Accessible, it's a few minutes away from De La Salle University, UP Manila, St. Scholastica's College, and the Manila Tytana Colleges. It even has very easy access to the MRT, the LRT, the ferry, and even the airport.

Effortlessly savor, enjoy, and live life in the Florida Sun Estates, a master-planned community located in General Trias, Cavite. It has residential subdivisions for sale, low-rise residential building, and commercial developments, too—all clustered developments. These are also complemented by wide open spaces, lush greenery, and resort-inspired amenities like pools, a deck, which you and your family can enjoy. It's also nearby commercial establishments.

Live with the elegance of Mediterranean Castillian-inspired Tropicana Garden City, a nine-tower gated community with green architecture. It has 60% wide open spaces, lush greenery which includes parks and pocket gardens, and an abundance of natural lighting and the unrestricted circulation of fresh are. It's located within a 17-hectare mixed-use development along Sumulong Highway, Marikina. Having its own upbeat modern, and vibrant town center, it has everything designed for the convenience of its residents. It's nestled against the backdrop of the Sierra Madre Mountain Range, so residents can be treated to a view of the metro in the Southwest.